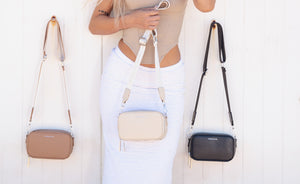 Our Story
Mocha's story started in 2003 when Nicki, a professional graphic designer turned jewellery maker started selling her handmade pieces at Camberwell Market on Sundays. Nicki's passion and creativity, combined with her partner Dotan's business experience, made this young couple a phenomenal duo. Their successful jewellery collection was soon rebranded as Mocha, named after Nicki's favourite hot beverage.

An opportunity presented itself at Westfield Southland in 2006, and the couple quit their day jobs and opened Mocha's first pop-up stall. Soon after, Mocha established its first boutique at Westfield Doncaster in October 2008, embellished with its now iconic copper fixtures and cascade chain ceiling. Fast forward to 2020 and this small family business has now expanded to 7 stores in Melbourne's most iconic shopping centres, along with concession stores at multiple Myer locations, with a staff base of more than 50 valued team members.
Our First 10-Year "Before & After"
October 2008
Westfield Doncaster - Nicki at Mocha's first ever standalone boutique under construction
October 2018
Nicki & Dotan with their 3 beautiful children celebrating the 10-Year Anniversary of our original Doncaster store
Our Value
From a young couple's passion project to a thriving brand in Australia's fashion capital, Mocha's core values of love, family, and style have never changed. Creating a supportive environment by offering opportunities for success have always been the one of the company's main priorities.

From Sunday Market stalls to the seventh boutique and now in a leading department store, Mocha is grateful for the heartwarming support of every customer along our journey. We strive for your satisfaction and our teams will work as hard as always to bring you extraordinary products and services.
Our Services
As a retail business with more than15 years experience, Mocha truly appreciate that service is the key to customer satisfaction. That is why we invest heavily in the training of our frontline staff and constantly seek ways to improve your shopping experience with us.
Our Products
Innovation is always in Mocha's DNA. Leveraging our advantages in the bricks and mortar retail, Mocha is thriving as an Omni-channel business, with presence online, on social media, and on marketplace platforms. Taking advantage of the latest technologies, our E-Commerce team is agile and creative, providing solutions to meet the emerging demands of the market.
Our People
From the Sunday Market stall with a young couple to multiple boutiques with more than 50 employees, people have always been the foundation of our business. The Founders of Mocha appreciate deeply that our company is only as extraordinary as our people.
Our team is passionate, dedicated, and diverse. Let's meet some of the members of our big family.
Career at Mocha